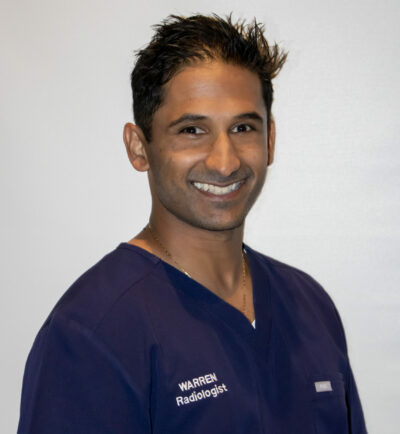 MBBS MMed FRANZCR
Dr Warren Perera graduated from Monash University in Melbourne and completed his radiology training at St Vincent's Hospital, where he currently serves as a senior staff radiologist. Throughout his career, Dr
Perera has taken on various roles, including Acting Head of Department, Director of Training, Intern Supervisor. He is also the Network Training Director for St Vincent's and Barwon Health, demonstrating his
commitment to trainee education.
He undertook an MRI fellowship at The University of British Columbia Hospital in Vancouver, Canada, covering all subspecialties with emphasis on Musculoskeletal Imaging. He has completed a Master of Medicine in Radiology and Specialist Certificate in Clinical Leadership, both via The University of Melbourne and is nearing completion of Associate Fellowship to The Royal Australasian College of Medical Administrators.
Dr Perera maintains interest in all subspecialties of medical imaging including body imaging and neuroradiology however most enjoys all facets of musculoskeletal imaging, including sports medicine, arthritis, bone and soft tissue tumours and spinal imaging. He performs a wide range of diagnostic and therapeutic procedures.

We offer accessible services by bulk billing almost all examinations and procedures.  To find out more, visit our billing information page.
View Billing Information
Book Your Next
Appointment
Complete our booking form and one of our friendly staff will contact you – it's quick, and easy. Click on the below link and follow the simple steps. Remember to have your referral handy.
Request an Appointment