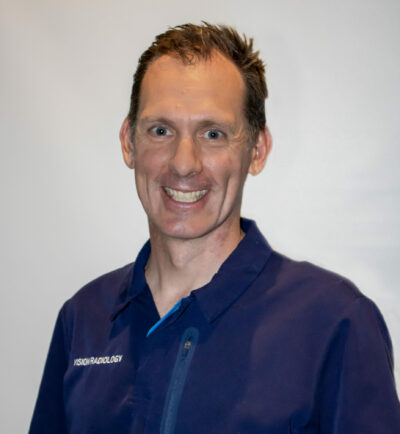 Dr Ben McDonald graduated from Monash Medical School in 2000 and undertook his radiology training at the Alfred Hospital, including a fellowship in MRI. He subsequently relocated to Perth, undertaking a further fellowship in musculoskeletal imaging, and continued working in Perth a radiologist in private practice.
In 2012, Ben returned back to Melbourne, with his young family to be a consultant radiologist at the Alfred Hospital.
As well as working with Vision Radiology, Ben continues to work at the Alfred Hospital as a musculoskeletal radiologist- working in close association with the spinal surgeons and rheumatology department.
Ben enjoys all aspects of radiology with a subspeciality interest in musculoskeletal imaging. As well as reporting all modality types of imaging, he performs diagnostic and therapeutic injections under fluoroscopy, ultrasound and CT.
Ben enjoys surfing and being outdoors with his family.

We offer accessible services by bulk billing almost all examinations and procedures.  To find out more, visit our billing information page.
View Billing Information
Book Your Next
Appointment
Complete our booking form and one of our friendly staff will contact you – it's quick, and easy. Click on the below link and follow the simple steps. Remember to have your referral handy.
Request an Appointment