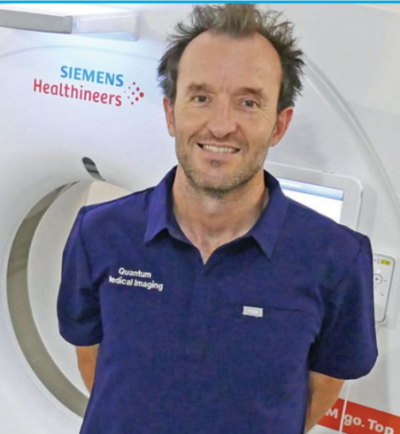 Andrew graduated with a Bachelor of Science with Honours, majoring in anatomy. He completed further study at the University of Queensland before he was selected as part of the inaugural intake into the graduate-entry Bachelor of Medicine and Bachelor of Surgery course at the University of Sydney.
After graduating in medicine, Andrew completed specialist training in Radiology, before undertaking further specialist training in Nuclear Medicine and Positron Emission Tomography (PET), to become a dual-qualified medical imaging specialist. He completed post-fellowship subspecialty training in Magnetic Resonance Imaging (MRI).
Andrew is a fellow of the Royal Australian and New Zealand College of Radiologists (FRANZCR), and the Australian Association of Nuclear Medicine Specialists (FAANMS). He has published several articles in peer-reviewed international journals, and has presented at several national conferences.
Andrew's professional interests include diagnostic and interventional radiology, pain management, musculoskeletal radiology, and sports medicine. He has a particular interest in treating athletes, from recreational to elite. His own sporting achievements include completing three 100 km ultramarathon trail races, and four 50 km ultramarathon trail races. He has completed 16 marathons, including the London and the New York Marathons. He has completed numerous half marathons.

We offer accessible services by bulk billing almost all examinations and procedures.  To find out more, visit our billing information page.
View Billing Information
Book Your Next
Appointment
Complete our booking form and one of our friendly staff will contact you – it's quick, and easy. Click on the below link and follow the simple steps. Remember to have your referral handy.
Request an Appointment