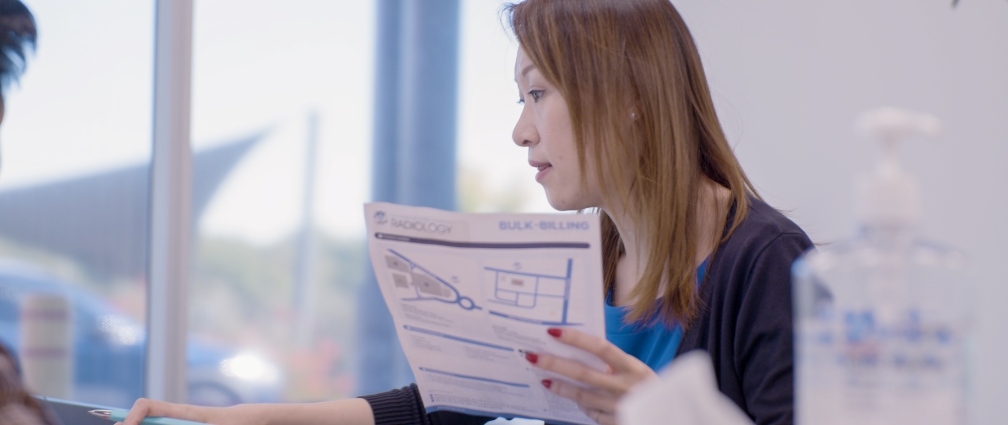 At Vision Radiology we take a patient focused approach to ensure our patients are well looked after and informed from the time the appointment is made. The majority of reports will be available to your GP or Health Care Provider within 48 hours of you leaving our department.
We understand many patients may be anxious at the time of illness and we endeavour to accommodate appointments as soon as possible.
Appointments recommended but not required for x-rays, non-contrast CT scans, Bone Densitometry and OPG examinations. In most cases walk in appointments are seen in order of arrival however we prioritise urgent studies and patients with appointments.
Vision Radiology accepts referrals from all radiology providers, so even if you have a different referral we can perform your requested examination. Please call us to arrange an appointment, alternatively click here, and we will contact you.
Instructions will be provided to you by our receptionists when making your appointment. More information about the range of examinations is also available under the Services page.
Do I need an appointment?
No booking are required for all X-rays, non contrast CT's, Bone Densitometry and OPG examinations.  All other examinations require a booking to be made.
Are there any out-of-pocket fees?
We are all about making quality radiology accessible. Almost all our services are bulk-billed with no out of pocket costs.
Some studies attract a fee, these include Pregnancy Ultrasounds (Nuchal Translucency, 2nd Trimester and 3rd trimester), and MRI examinations.
All CT guided & Ultrasound guided injections and FNA/Biopsies are Bulk Billed.
How long does it take to receive my Results?
Your referring Doctor/Practitioner will be able to view your images as soon as you leave the Clinic. Your report will be visible to your clinician within 48 hours.
We'd love your feedback
At Vision Radiology, our aim is deliver an excellent service experience to every patient, every time. Your feedback helps us create a better experience for all our patients and we encourage patients to share their Vision Radiology experience with us.
Patients can contact us by:
We offer accessible services by bulk billing almost all examinations and procedures.  To find out more, visit our billing information page.
View Billing Information
Book Your Next
Appointment
Complete our booking form and one of our friendly staff will contact you – it's quick, and easy. Click on the below link and follow the simple steps. Remember to have your referral handy.
Request an Appointment