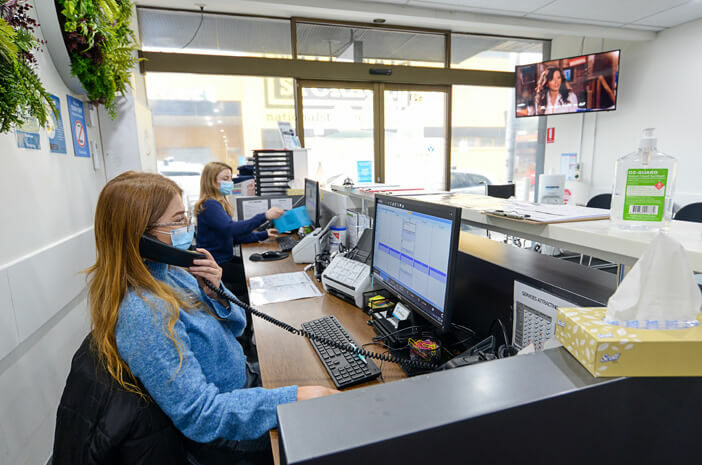 Results
We always recommend discussing your results with the practitioner that referred you for your scan. This is because tests may represent just one of the many factors that are considered in reaching a diagnosis and planning treatment/management. Other factors may include family history, age, gender, physical findings, medications etc.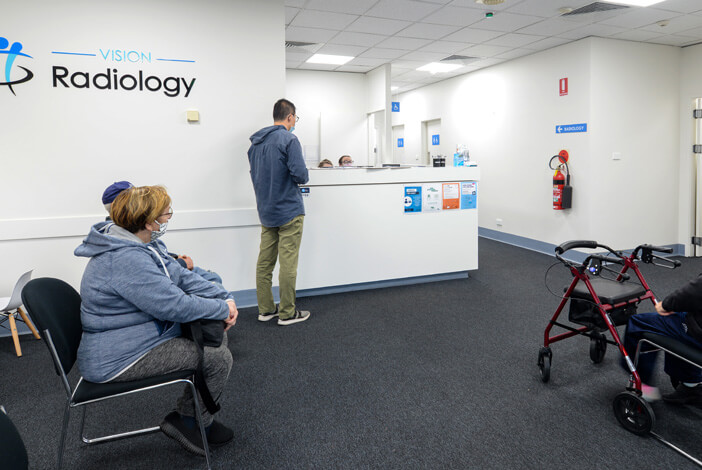 Images
Many referring doctors will be able to view your images from their rooms via our viewer. Patient images are stored electronically on our PACS (Picture and Archiving Communication System). This is a secure system that encrypts your results which your doctor securely signs into each time.
As images are stored, we can always print films at a later date if required (provided we have notice) for you to collect from our clinic. Images can also be supplied on USB or CD/DVD.
You, our patient, can view, share, and store your images using Vision Radiology Patient Portal. Our patient portal gives you secure online access to your images via computer, tablet or phone.
You have access to your images anywhere, anytime allowing you to share with anyone you choose. You can share your adorable baby ultrasounds with family and friends or grant access to a medical practitioner if you're travelling or seeking other opinions.
Our Patient Portal is ideal if…
You suffer from a long-term or chronic medical condition and need your imaging history
You are pregnant – share your precious baby scans with family and friends
You travel – have your scans instantly available anywhere in the world
You need to share with clinicians involved in your healthcare
How do I access my images?
1. After your first scan at a Vision Radiology clinic, you will receive an SMS asking you to activate an account to view your images. Tap on the secure link in the SMS and follow the prompts (verify your identity) to activate your account.
2.2. You can view images via the following web link patient.visionradiology.com.au or you can also download the Vision Radiology app from the Apple App Store or Google Play.
Apple App Store and Google Play links
Your report will be sent to your referring doctor as they are in the best position to interpret your results. Your referrer will typically receive these results within 48 hours of your appointment. Your report will be available 21 days after your doctor receives it.
3. Log into the Vision Radiology Patient Portal. The 'Report' button will become active when the results are delivered.
Why didn't get an SMS?
Common reasons why you may not have received your activation SMS
It hasn't been long enough since your examination, the SMS is an automated process and usually sends 2 hours after your examination has been verified by the technician that completed your study.
You didn't provide a mobile number
The incorrect mobile number was given or entered into your patient profile in our clinic. Please contact your local Vision Radiology clinic to confirm your details.
You've already activated your account and have attended a Vision Radiology clinic for additional scans, in this case, simply login into your account and your scans will populate. It is important you use the same mobile upon every subsequent visit, so your scans automatically get added to your existing account.
I cannot activate my account using my Date of Birth
Confirm you're using DD/MM/YYY format.
If you're still having issues, its possible your DOB was entered incorrectly into our system. Please call your local Vision Radiology clinic to confirm or submit a support ticket.
What is my username or password?
For most people, your username will by default be your mobile number. The format is your full normal number without any international codes. If you've provided your email, it will also work as your username.
Your password is the one you set via the activation process. If this falls try your mobile number as the username and password.
How do I share my images?
Sharing a URL with someone:
1. Sign into your account
2. Select the scan you'd like to share by tapping the share button
3. Customise your share – you can 'include report' or limit the number of days your scan is active – then click submit
4. A Quick share URL will appear
5. Share your URL electronically with your doctor or they can enter your code into the Quick Share
Sharing images:
1. Sign into your account
2. Select the scan you'd like to share by tapping the View button
3. Scroll through the images to the one you want to save and click the download button
4. You will be given the option to 'draw' on your image
5. Select Save image or social media platform to share with your followers / family or friends
For more instructions with images click here
Why do my images say they're 'offline'? Can I still access them?
Your study is still available but may take some time to be pulled from our Picture Archiving and Communication System (PACS). Simply put, PACS is a system that stores images and reports electronically. Like a conventional filing system, every day when we perform scans and procedures, they are added to the 'filing system' archiving old studies.
To access your study, click on the study you want to view or share and the system will begin retrieving the scan in the background. The app or page will automatically refresh when the images are ready for viewing. This may take some time.
We offer accessible services by bulk billing almost all examinations and procedures.  To find out more, visit our billing information page.
View Billing Information
Book Your Next
Appointment
Complete our booking form and one of our friendly staff will contact you – it's quick, and easy. Click on the below link and follow the simple steps. Remember to have your referral handy.
Request an Appointment